Home
Details

Written by

Dampframme
Seit gestern kann man nun die Strecke Projekt Freiberg in der Version 2.0 erfahren . 
In der neuen Version kann man nun die Sachsen Magistrale erkunden (fahrbar zwischen Tharandt und Karl-Max-Stadt) .
Beschreibung der Strecke des Users kstdija aus dem Rail-sim.de Downloadbereich:
Die Strecke "Projekt Freiberg (Sachs) V2.0" ist eine Erweiterung für den Train Simulator 2016.
Enthalten sind der 66 km lange, elektrifizierte Abschnitt Tharandt – Freiberg(Sachs) – Karl-Marx-Stadt (Chemnitz) der Bahnstrecke Dresden –Werdau, weiterhin die nicht elektrifizierten Nebenbahnen Freiberg(Sachs) – Halsbrücke ( 8 km ), Freiberg (Sachs) – Berthelsdorf ( 6km ) , Berthelsdorf – Großhartmannsdorf ( 12 km ), Brand-Erbisdorf– Langenau ( 4 km ), sowie viele Industrieanschlüsse.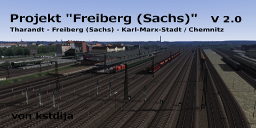 Details

Written by

Dampframme
Anlässlich zum 2 Jährigen Bestehen von 3DZug gibt es am 26.02.2016 20 % Rabatt auf alle 3DZug Produkte .
Dampframme wünscht Happy Birthday und alles Gute .
Details

Written by

Dampframme
Passend zum President's Day in den USA hat heute Dovetail Games eine US Strecke veröffentlicht . Amerika's schönste Zugstrecke ist die Feather River Canyon Route . 1903 gebaut zwischen den Städten Salt Lake City und San Francisco . Betreiber heute ist die Western Pacific Railroad .
Key Features :
Western Pacific's fabulous Feather River Canyon route from Oroville to Quincy Jct., California, including a segment of the Inside Gateway and the Quincy RR short line 
General Electric U30B diesel in WP orange and silver livery 
Electro-Motive F7A and F7B diesels in Western Pacific livery 
Period-authentic freight rolling stock including a WP bay-window caboose 
Scenarios for the route 
Quick Drive compatible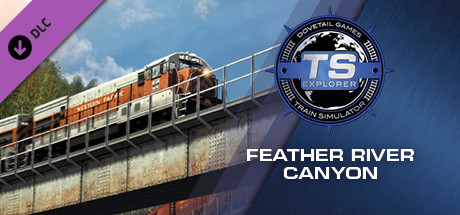 Details

Written by

Dampframme
Von Christrains wurde heute der Wadloper DH1(Einzelwagen) und DH2 (Doppelwagen) veröffentlicht . Jener ist auf Holländischen Strecken im Einsatz .
Key Features :
Full custom model and custom audio

DH1 (single wagon) and DH2 (double wagon) versions

Versions for NS (new and old), Noordned (including the green version), Veolia (including the red/white/grey version) and also Transferoviar Calatori (Romania)

Detailed cabview

ATB-NG (train protection system) emulation in the newer NS version

Second Class passenger view

Uses smart scripting for cab lighting, custom controls, destination boards and more

Dynamic autonumbering

Comes with a tutorial/training scenario set in the TS Academy

Can be used in your own scenarios, and is available in Quick Drive

English PDF User's Manual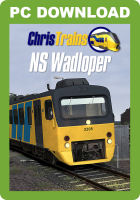 Für beide Shops gibt es Rabatte für Newsletter Kunden .
Details

Written by

Dampframme
Aus dem Hause Global Entertainment wurde "die Marschbahn von Husum nach Westerland" nochmal aktualisiert . Diese Version 3 ist seit heute Nacht im Kundenkonto als Download verfügbar .
Änderungen :
Kurvenüberhöhungen

Weitere Handweichen nun automatisiert

Kleinere optische Aufwertungen (Bahnübergänge, Beleuchtung, etc.)